About Us & Breed History
Old picture postcard of a lady and her Irish Terrier
The Irish Terrier Club of Australia was established in 2006 when it became evident that the Irish and Lakeland Terrier Association was no longer active. The Irish Terrier breeders wanted to continue on with a social club that would promote this wonderful breed.
The mission of our club is to:
Provide open and honest information about Irish Terriers to the public

Put the public in touch with caring breeders

Provide a quality quarterly newsletter

Protect the integrity of this healthy breed through honest discussion amongst breeders as well as care and diligence in our breeding

Encourage breeders to meet once every two years at a travelling specialty show

Encourage new comers to the breed by being supportive and respectful

Accept that we might from time to time have a different opinion but we will respect the right of others to have a differing opinion

Embrace the use of Irish Terriers in all disciplines of dog related activities

Maintain a history of the breed for future generations of breeders and enthusiasts.
The club consists of
Coordinator and webmaster Liz Walmsley
Treasurer Liz Walmsley
STATE DELEGATES
Queensland Erica Davis
New South Wales Pam Gerrey
Victoria/ACT Ruth Elkner
South Aust/NT Sue Swalling
Tasmania Michael Muldoon
Western Australia Neridah Sharrett
Early Breed History
Info from Betty Gerdsen
(Laigin Irish Terriers)
Betty Gerdsen bred Irish Terriers under the Laigin prefix for many years. She has always been passionate about the history of Irish Terriers in Australia, researching the pedigrees and information kept by the Victorian Canine Association. Below are some of the items she recently sent me.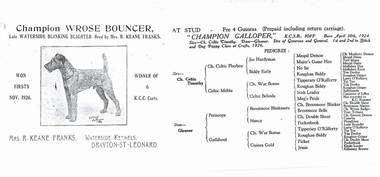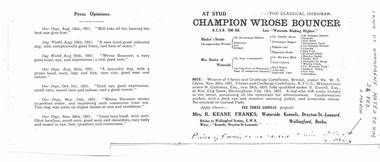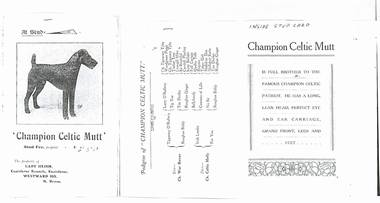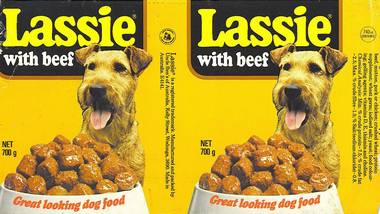 The above advert stars one of Betty's earlier Irish Terriers
Ch Laigin Legend (27.1.1972 - 16.3.1985)
Some time ago Betty also sent me an Irish Terrier Supplement from the RASKC Journal of April 1965. It is a 12 page supplement packed with breed history particularly within Australia. I have attached some of the pages. Many thanks to Betty for her contributions.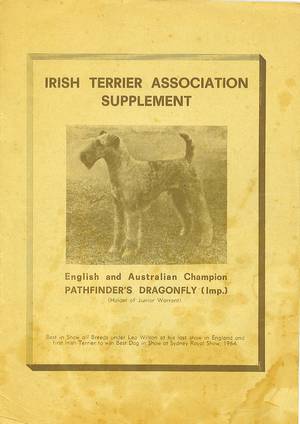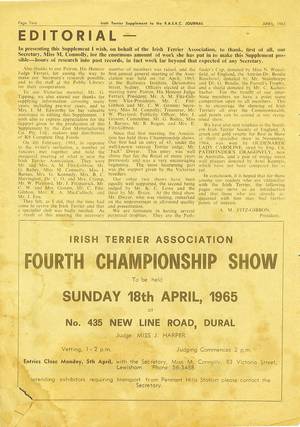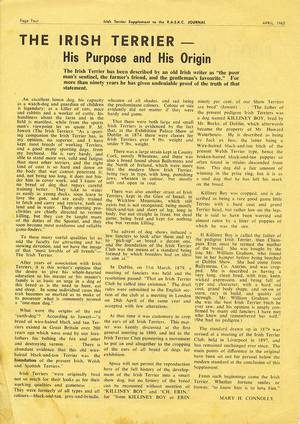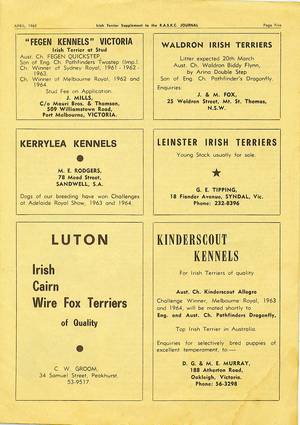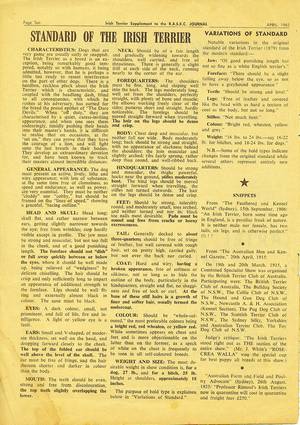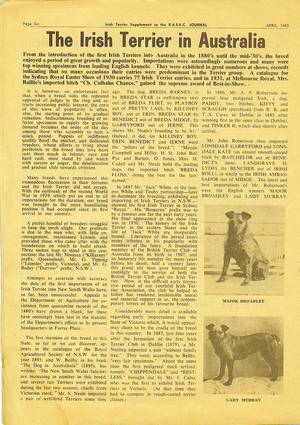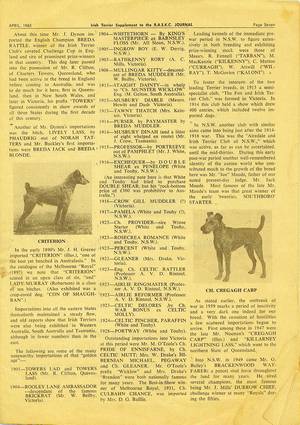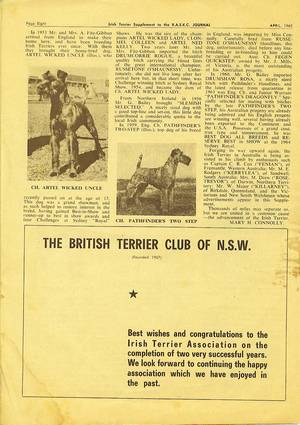 Please email the webmaster if you would like copies of the old stud cards emailed to you (they are a bit hard to read on site).